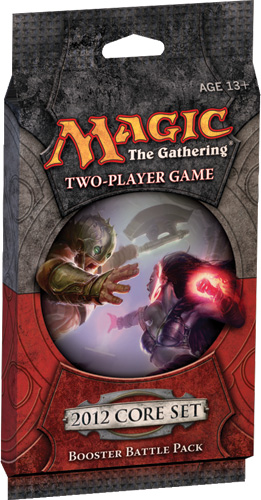 Booster Battle Packs are designed as an introduction to the limited format, and are quick and fun for Magic players of any level.
Each pack contains a pair of semi-random decks, each with land appropriate for the deck's two colors. To play Booster Battle Packs, each player selects a deck, opens a booster chooses up to five cards from it, and shuffles them into their deck, then the spell-slinging begins. Since each pack will have four different colors, the two decks won't overlap. And when you add the booster to the equation, Booster Battle Packs create nearly limitless limited play options.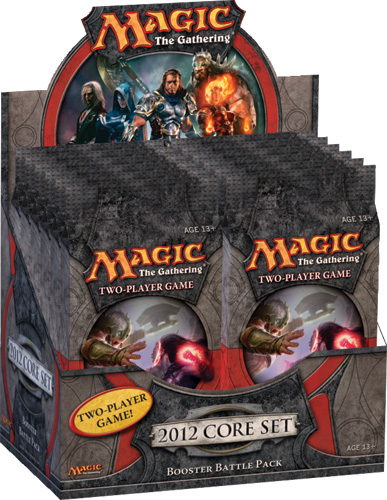 Experience the fun of a two-player pack war. Grab a friend, bust open a booster, and begin battling!
Each Booster Battle Pack contains:
Two 20-card semi-randomized decks
Two 15-card Magic 2012 Core Set booster packs
Magic "learn to play" guide
Rules insert
Deck Design and Development: Erik Lauer
Release Date: September 9, 2011
MSRP: $9.99
Available worldwide in English.
http://wizards.com/Magic/Magazine/Article.aspx?x=mtg%2Fdaily%2Farcana%2F739
Les Booster Battle Packs sont prévus pour faire découvrir l'environnement de jeu Limité aux nouveaux joueurs, mais permettent tout de même à deux joueurs même confirmés de s'éclater en un instant !

Chaque booster contient deux decks semi-aléatoires et deux boosters M12, avec les terrains correspondant. Pour jouer avec un Booster Battle Pack, chaque joueur choisit un deck, ouvre un des deux boosters, choisit 5 cartes dedans, et les mélange à son deck. Etant donné que chaque pack aura 4 couleurs représentées (le premier deck a deux couleurs et le second deux autres couleurs), les deux decks ne se 'chevaucheront' pas. Si vous ajoutez à cela le booster par deck, ceci permet d'avoir une infinité d'opportunité de parties au format Limité.
le concept est sympa.
a voir quand ce sera dispo a la vente et le prix.
j'en prendrais peut etre pour jouer avec marc quand il reviendra en france...

gob76




Messages

: 4004


Points

: 1604


Date d'inscription

: 15/11/2007


Age

: 39


Localisation

: LH



Sujets similaires
---
Permission de ce forum:
Vous
ne pouvez pas
répondre aux sujets dans ce forum