https://tournoi-de-cartes.forumpro.fr/t2645-wow-2011-class-starter-deck#31202
http://www.wowtcg.com/products/2011-class-starter-deck
Dernière édition par 1800dci le 21/5/2011, 17:53, édité 1 fois
Des petites news :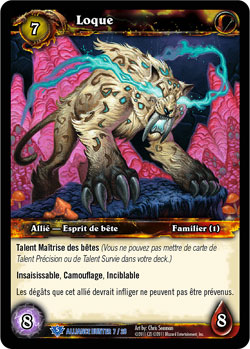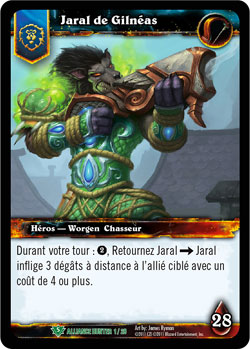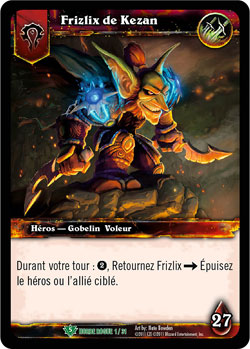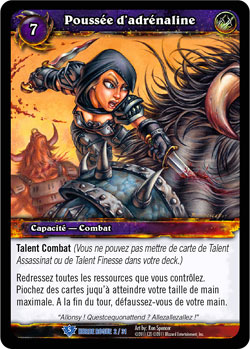 - Pour la première fois en français !
- Indispensable pour créer de nouveaux joueurs dans votre magasin.
- 2 Decks prêts-à-jouer de 60 cartes chacun.
- Un Deck Chasseur Worgen et un Deck Voleur Gobelin : les 2 nouvelles races présentent dans World of Warcraft Cataclysme.
- Des héros exclusifs : Jaral de Gilnéas (Worgen) et Frizlix de Kezan (Gobelin).
- Des cartes Butins sont insérées aléatoirement : Sandbox Tiger, Owned et El Pollo Grande. Cette dernière est une monture exclusive !
- Chaque Deck contient un guide pour apprendre rapidement les règles du JCC World of Warcraft.
Liste des cartes rééditées :


Class Starter:
Alliance Druid 1 - Leisha of Darnassus
Alliance Hunter 1 - Jaral of Gilneas
Alliance Mage 1 - Rumi of Gnomeregan
Alliance Paladin 1 - Saria of Stormwind
Alliance Priest 1 - Kaave of the Exodar
Horde Death Knight 1 - Baeltor of the Undercity
Horde Rogue 1 - Frizlix of Kezan
Horde Shaman 1 - Akumo of Thunder Bluff
Horde Warlock 1 - Kalia of Silvermoon City
Horde Warrior 1 - Gurzak of Orgrimmar

Heroes of Azeroth:
Alliance Druid:
3 - Entangling Roots
6 - Mark of the Wild
11 - Braxiss the Sleeper
20 - Sha'lin Nightwind
23 - Blueleaf Tubers

Alliance Hunter:
2 - Arcane Shot
3 - Bloodclaw
8 - Master of the Hunt
13 - Crazy Igvand
21 - Ancient Bone Bow
24 - Blueleaf Tubers

Alliance Mage:
4 - Counterspell
5 - Fire Blast
6 - Fireball
7 - Frostbolt
9 - Mana Agate
10 - Polymorph
24 - Blueleaf Tubers

Alliance Paladin:
2 - Blessing of Might
4 - Hammer of Justice
11 - Anika Berlyn
12 - Apprentice Teep
15 - Kor Cindervein
20 - Edgemaster's Handguards
21 - Golem Skull Helm
25 - Blueleaf Tubers

Alliance Priest:
4 - Dispel Magic
6 - Flash Heal
7 - Heal
9 - Resurrection
20 - Parvink

Horde Death Knight:
13 - Benethor Draigo
14 - Dark Cleric Jocasta
29 - Blueleaf Tubers

Horde Rogue:
5 - Deadly Poison
6 - Dismantle
12 - Sinister Strike
23 - Barman Shanker
25 - Scarlet Kris
27 - Blueleaf Tubers

Horde Shaman:
3 - Chain Lightning
7 - Frost Shock
15 - Ka'tali Stonetusk

Horde Warlock:
8 - Life Tap
10 - Sarmoth
11 - Shadow Bolt
13 - Benethor Draigo
16 - Karkas Deathhowl
24 - Blueleaf Tubers

Horde Warrior:
3 - Battle Shout
5 - Execute
7 - Rend
10 - Benethor Draigo
11 - Brigg
13 - Kagra of the Crossroads
15 - Moko Hunts-at-Dawn
17 - Taz'dingo
19 - Vaerik Proudhoof
22 - Zygore Bladebreaker
23 - Golem Skull Helm
24 - Arcanite Reaper
27 - Blueleaf Tubers

Dark Portal:
Alliance Druid:
9 - Thorns
10 - Wrath
12 - Cerwyn

Alliance Hunter:
4 - Chops
10 - Trophy Kill
12 - Cerwyn
18 - Pithran Mithrilshot
20 - Valanos
22 - Blackcrow

Alliance Mage:
11 - Scorch
14 - Cerwyn

Alliance Priest:
11 - Cerwyn

Horde Rogue:
7 - Distract
11 - Prey on the Weak

Horde Shaman:
20 - Vanda Skydaughter

Horde Warlock:
21 - Waz'luk

Horde Warrior:
8 - Thunder Clap
25 - Fel Iron Hatchet

Fires of Outland:
Alliance Hunter:
15 - Guruvan

Alliance Mage:
18 - Josiah King

Alliance Paladin:
10 - Andiss Butcherson

Horde Death Knight:
17 - Erytheis

Horde Shaman:
2 - Chain Heal
23 - Masterwork Stormhammer

Horde Warlock:
7 - Immolate
15 - Garell Strout
17 - Malistra the Demonmistress
20 - Tez Tez the Patchmonger

Horde Warrior:
14 - Karrok Scarrend

March of the Legion:
Alliance Druid:
5 - Gift of the Wild

Alliance Hunter:
6 - Crippling Shot
11 - Bizzazz

Alliance Mage:
3 - Cold Front
16 - Gabble

Alliance Priest:
2 - Chasten
10 - Twist of Faith

Horde Death Knight:
11 - "Acid Hands" McGillicutty
18 - "Fungus Face" McGillicutty

Horde Rogue:
2 - Adrenaline Rush
13 - Bloodblade
14 - Captain Swash
21 - Wysko

Horde Shaman:
5 - Earth's Bounty

Horde Warlock:
12 - Siphon Life
22 - Crimson Shocker

Horde Warrior:
12 - Gurzuk
18 - Tyrennius Scatheblade
20 - Wysko

Servants of the Betrayer:
Alliance Paladin:
8 - Wrath of Turalyon

Horde Shaman:
6 - Elemental Precision
18 - Mojo Doctor Zin'tar

Horde Warlock:
3 - Dread Infernal
19 - Tarn Darkwalker

Horde Warrior:
2 - Armed to the Teeth
9 - Whirlwind

Hunt for Illidan:
Alliance Druid:
2 - Energize

Alliance Paladin:
6 - Holy Shock

Alliance Priest:
3 - Circle of Healing
24 - Talian Bladebender

Horde Death Knight:
12 - Alecia Hall

Horde Rogue:
18 - Lu'ka de Wall
20 - Skronk Skullseeker

Horde Warlock:
28 - What Illidan Wants, Illidan Gets...

Drums of War:
Alliance Mage:
8 - Ice Lance

Horde Shaman:
11 - Natural Conduit
17 - Lifemender Dorn

Drums Starter:
Alliance Paladin:
16 - Orono the Great

Alliance Priest:
19 - Orono the Great
23 - Priestess Katianna

Blood of Gladiators:
Alliance Paladin:
19 - Tyrus Lionheart

Alliance Priest:
25 - Wand of the Forgotten Star

Fields of Honor:
Horde Rogue:
4 - Carnage

Scourgewar:
Alliance Druid:
7 - Nature's Focus
21 - Varah, Fury of the Stars

Alliance Mage:
21 - Trixie Boltclunker

Alliance Paladin:
18 - Trixie Boltclunker

Alliance Priest:
8 - Power Word: Vigor
22 - Petreus Roffe

Horde Death Knight:
8 - Obliterate
15 - Drandus the Deathcaller
16 - Emelia Darkhand
22 - Bloodbane's Fall
26 - Reanimator's Hacker
27 - Brothers in Death

Horde Rogue:
16 - Firewarden Wyland Kaslinth

Horde Shaman:
24 - Reanimator's Hacker

Wrathgate:
Alliance Druid:
4 - Gift of the Earthmother

Alliance Paladin:
22 - Angry Dread

Alliance Priest:
18 - Nethermaven Donna Chastain
26 - The Ichor of Undeath

Horde Death Knight:
5 - Frost Fever
19 - Murphy Watson
24 - Angry Dread

Horde Shaman:
9 - Infusion of Earth

Horde Warlock:
2 - Drain Essence

Icecrown:
Alliance Druid:
13 - Darktwister Kern
18 - Kysa Shadowstalker

Horde Rogue:
8 - Fan of Knives
17 - Kozik Skullcracker

Horde Warlock:
14 - Doom

---
Permission de ce forum:
Vous
ne pouvez pas
répondre aux sujets dans ce forum